Because today marks the first official day of spring and you're probably itching to get your hands in the dirt, I wanted to share my top 6 favorite summer flowers to sow now. Even though dahlias would definitely be near the top of my list, this list is focused on flowers you can easily plant from seed, whereas dahlias are grown from tubers. While in most areas its still too risky to plant any heat loving flowers outside yet, it is the right time to start these seeds indoors. To find out the frost date in your area, just enter your zip code in the Old Farmer's Almanac.
If you plant all 6 of these flowers (well, 2 of them are actually foliage) then you will be able to create a perfectly balanced bouquet straight from your own cutting garden.
Benary's Giant Salmon Rose Zinnia
Zinnias are quite possibly the happiest flower that I can think of and this 'Salmon Rose' color just feels like summer. Plus they love the heat! Once your plants begin to flower, cut them deeply to encourage longer stems and more branching. To pick them at the proper stage, wiggle the stems just under the head of the flower - if they are floppy and very wiggly, wait another day or so. If the stem is firm, they're ready to cut! Zinnias are susceptible to powdery mildew (especially if you're in the hot, humid south) so I recommend sowing one round of plants now and another about a month later. These large zinnias will be the perfect focal flower in your summer bouquet.
Celosia 'Flamingo Feather'
Celosia is another heat-loving flower. They are very long-lasting in the vase and not prone to any diseases (at least not for us). Like zinnias, the deeper you cut them at first, the more branches they'll produce. Celosia do have a tendency to grow very thick stems if you don't cut them enough - so snip away! Celosia add interesting spikes and texture into bouquets and work great for boutonnieres + flower crowns. They are also a great flower to dry - just hang them upside down in a warm, dry spot for a couple of weeks.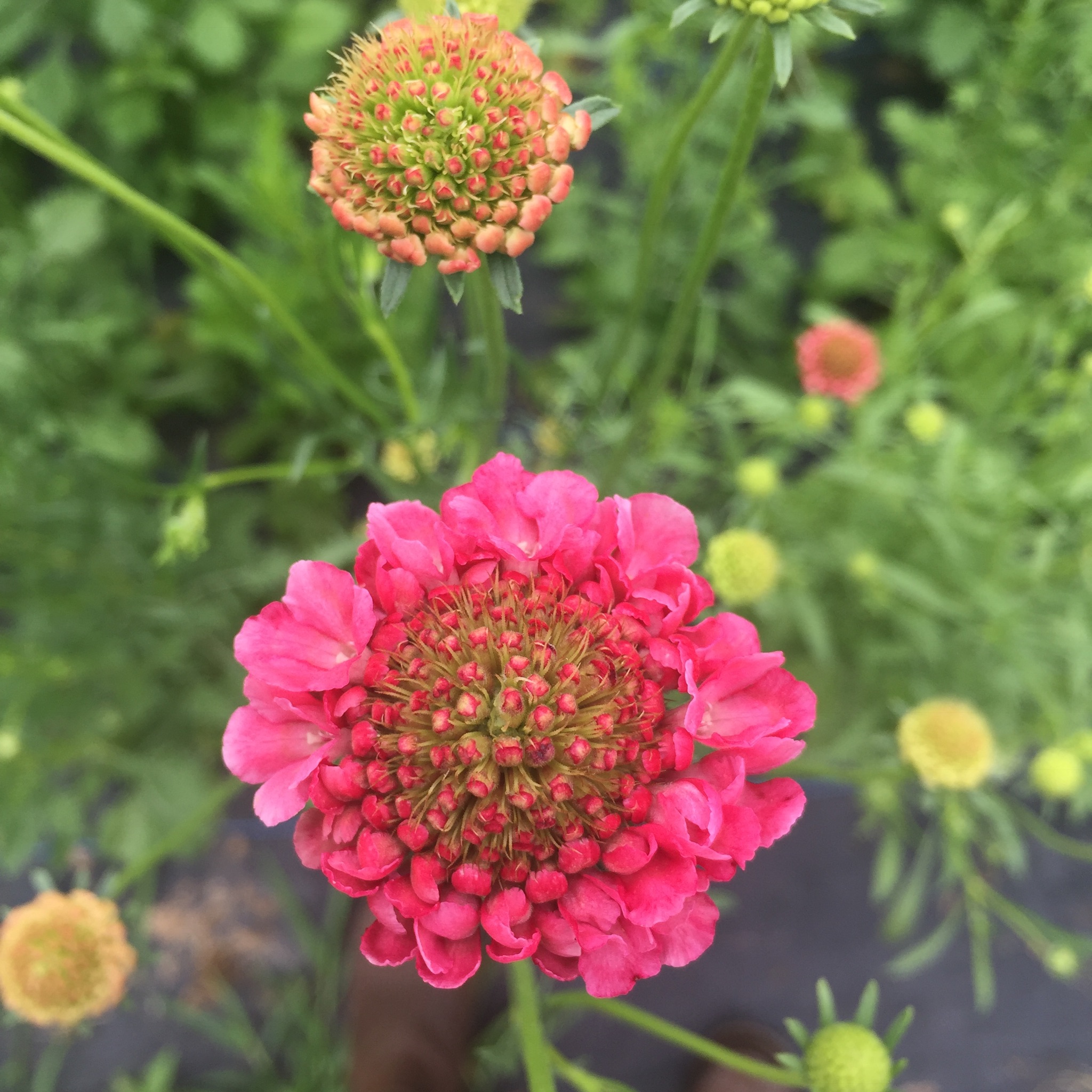 Scabiosa ~Pincushion Flower
Scabiosa are one of my absolute favorites! They grow well practically year round - they're very cold hardy so you can plant them in late fall for early spring blooms and they are heat tolerant. We plant them practically every week on the farm in a wide range of colors. Scabiosa are a staple in practically every bouquet that we create, whether for a wedding or grocery store since they add the perfect amount of whimsy and movement. To get the maximum vase life, harvest when the first petals begin to form on the edges of the pincushion.
Cosmos 'Double Click' Mix
These are not your average cosmos! With ruffly, fluffy petals theses beauties will make your heart skip a beat. Like zinnias, cut cosmos deeply at first to encourage longer stems and more branches. Pick cosmos when they first petals start to unfurl from the bud. Cosmos are a great filler for bouquets and this mix comes in shades of white, light pink, dark pink and white with pink picotee. Their fern-y foliage adds a lovely texture to bouquets too.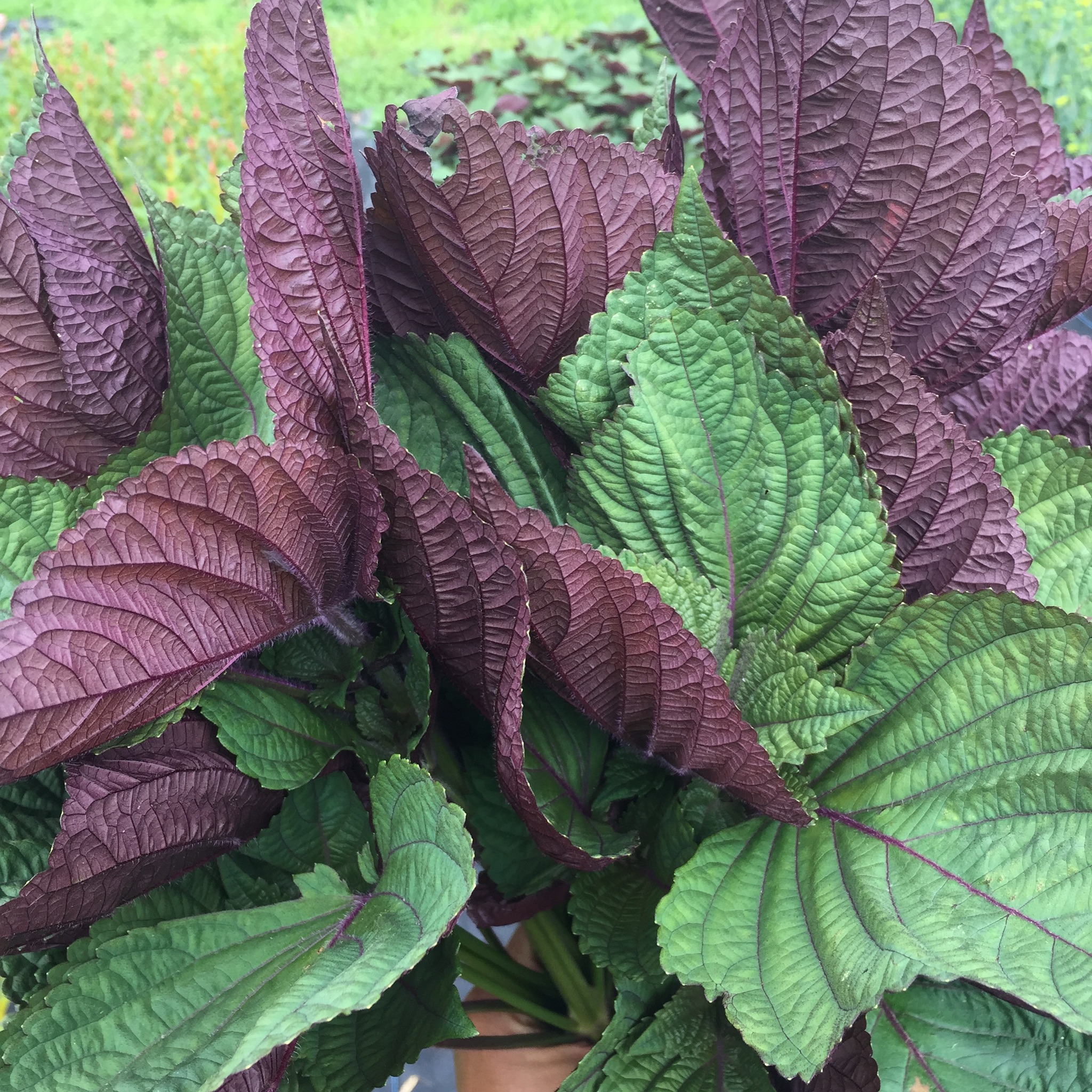 Shiso is actually an edible green, but we use it as foliage for bouquets throughout the summer and fall. Its another tried and true farm staple for us. While slow growing at first, the plants will get over 5' tall towards the end of the season. Shiso is ready to cut once the stems become a little more woody and thick. Then, cut the thickest center stem first to encourage the other stems to continue branching and toughening up. Because its a leafy green, its best to harvest in the morning or evening so the greens don't wilt in the heat. But once properly hydrated in clean water, shiso will last for well over a week in the vase.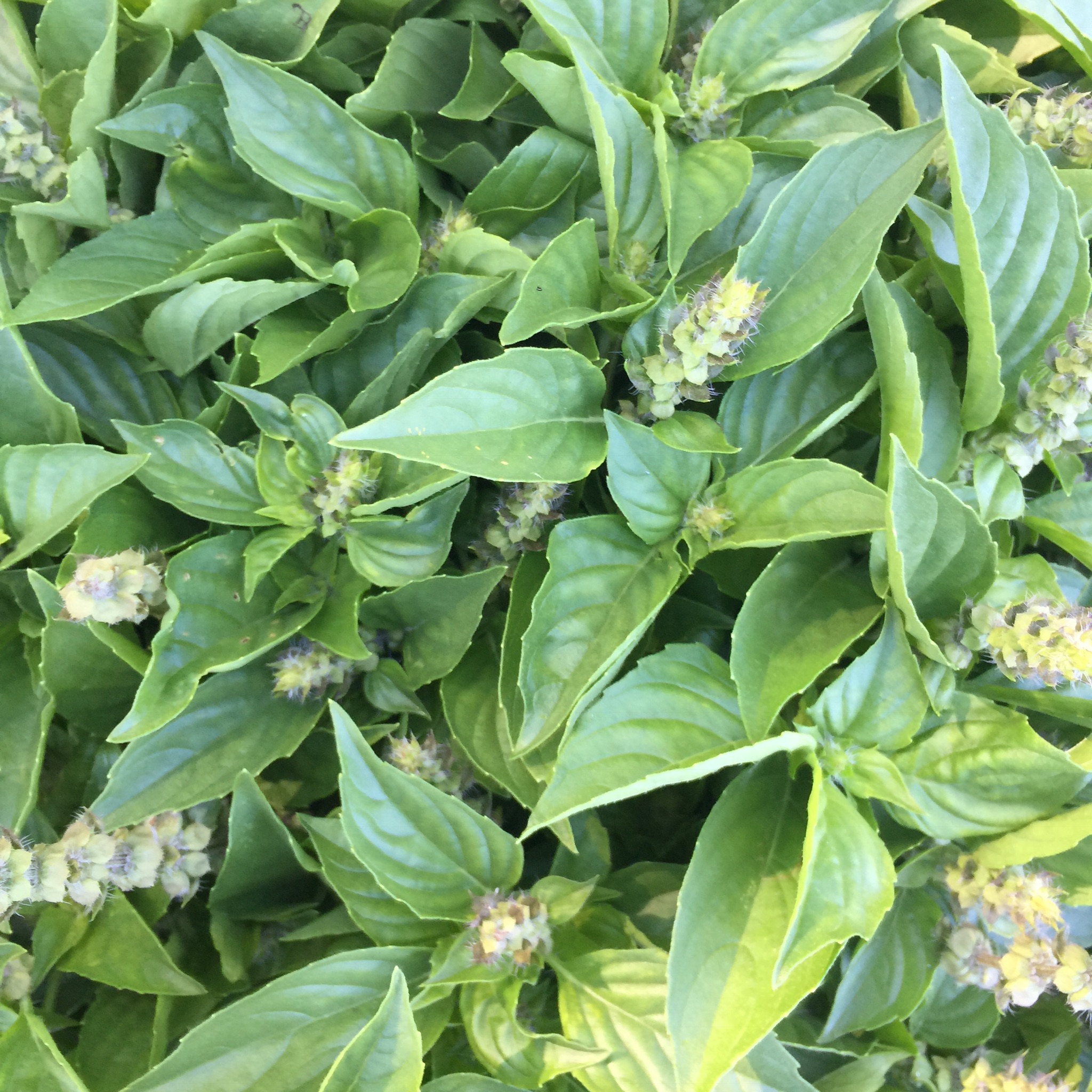 Lemon basil has the most incredible scent! Its another edible plant that we use a filler and foliage and couldn't do without. The key to getting a good vase life from basil is to wait until the plant has woody stems and is starting to put out buds. We do cut the stems before this stage in order to promote more branching and heartier stems. Keep cutting basil until its done flowering or the leaves start to brown - basil is a very prolific bloomer!
While I could go on for days about summer flowers, I'll just leave you with these 6 that are tried and true varieties for us on the farm, which are perfect for growing a cutting garden at home. Seed for all of these flowers (and so many more!) can be found through Johnnys Seeds. What are some of your favorites that I didn't mention or that you're trying for the first time this year?
Happy Spring, flower friends!