Each year in October, I feel a sense of relief that the season of rest is quickly approaching (that season of rest is also known as Winter), and also the feeling that there are not enough hours in the day to get everything done.
Summer annuals like dahlias, zinnias, cosmos, celosia and more will continue to bloom until our first frost, which here in zone 6a/7b is sometime around late October. The Fall light is perhaps the most beautiful with its soft golden cast and I feel nostalgic that I won't see these beautiful flowers again until next summer.
Fall is also the time to plant cold hardy annuals, also known as cool flowers. Pansies come to mind for most people when thinking of cool flowers, but there are so many more to plant now for spring blooms! One important thing to note is that all cool flowers are not hardy in every zone. I am talking here about my specific zone and encourage you find out your zone by checking the USDA's plant hardiness zone map.
In addition to still harvesting almost daily and also designing for weddings each weekend, we are planting thousands of seedlings out into the field. While we have 2 unheated hoop houses on the farm - both of which will be packed full of plants and bulbs this winter - most cool flowers can be planted directly into the field and require minimal, if any, protection. Planting cool flowers now helps the plants to get their roots established before we dive into winter temperatures and provides them with the necessary vernalization. Once the temperatures begin to warm up in the late winter and spring, these plants will take off. Longer stems and more blooms per plant are just some of the many benefits of planting cold hardy annuals. I highly recommend Lisa Mason Ziegler's book "Cool Flowers" if you're interested in learning more.
Even though I start all my seeds in a greenhouse or order them as plugs from large greenhouse growers, these can also be directly seeded into the garden. Here are my top 5 favorite cool flowers that you can plant now:
Favorite varieties: the Dalmatian and Camelot series.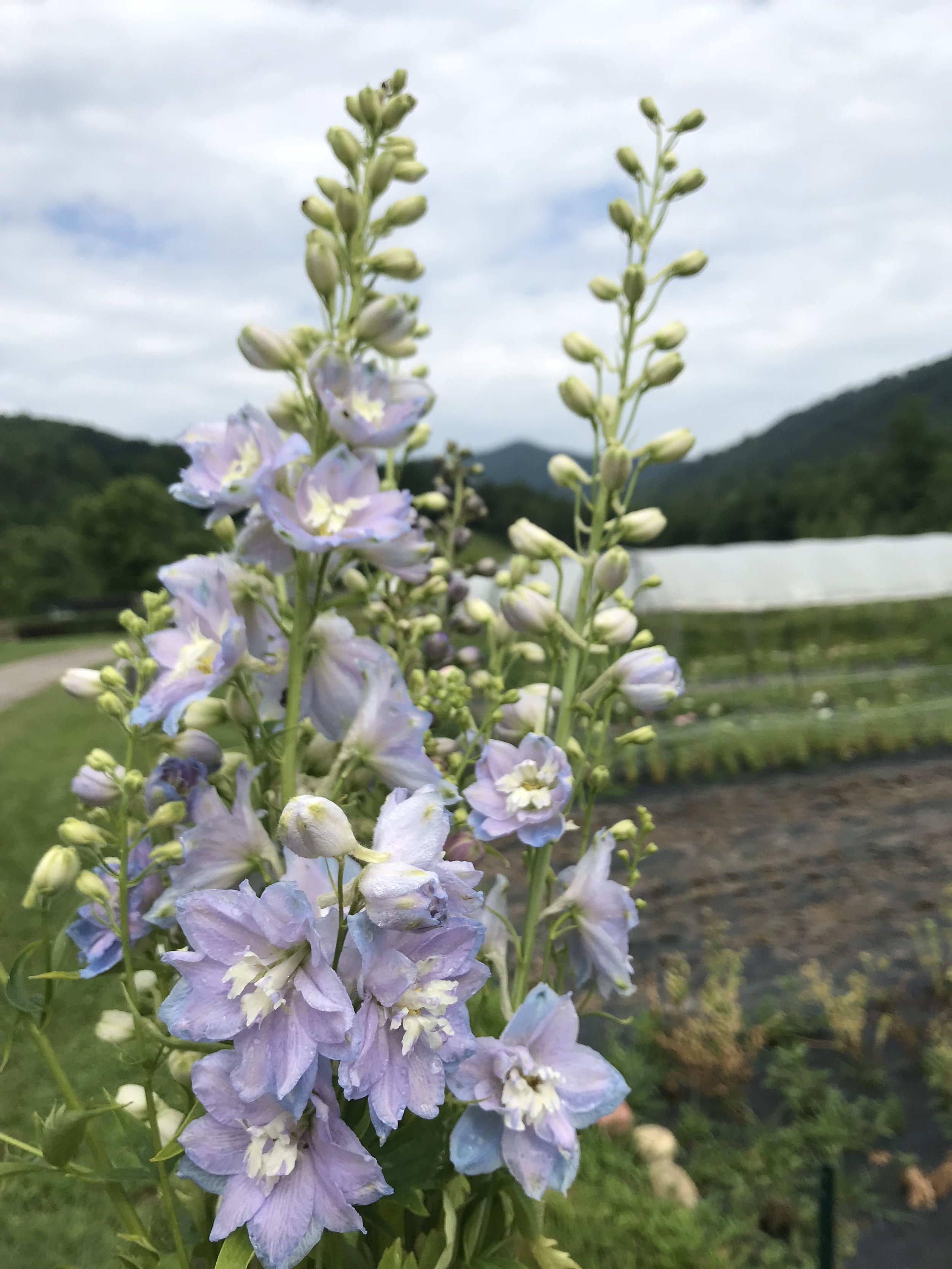 Favorite varieties: the Pacific Giant series
Also known as Canterbury Bells
Favorite varieties: the Champion series
Also known as Love in the Mist
Favorite varieties: Miss Jekyll mix and African Bride
Favorite varieties: Chantilly + Madame Butterfly series
I would be remiss not to mention ranunculus and anemone since they are my favorite flowers (shh, don't tell the others). You can read more about our process for planting these here. Other cool flowers that I can't live without are scabiosa and Icelandic poppies.
So even though Fall is by far the busiest time of year on a farm and most of us are counting down the days until winter, Fall is also a season of hope. I can't wait to put all the lessons learned from another year of farming into practice next season. There is immense satisfaction in planting all these babies for spring and knowing that they're slowly growing throughout the winter, ready to burst into bloom at a time when we are so starved for color.